We currently carry a wide range of window moulds for a variety of fixed wing aircraft and helicopters, such as Cessna, Piper, Beechcraft, Bell and Robinson to name a few. Windows can be manufactured according to sample and trimmed to sample size to ensure the perfect fit. Alternatively, windows can be ordered using the aircraft specifications, further trimming may be required for fitting by your maintenance organisation.

Composite aircraft components available include wing, elevator and rudder tips, wheel spats, fairings, cowlings, strut cuffs and tail cones. As with the windows, we carry the moulds for composite components for a variety of different aircraft.

To assist you in the ordering process, please see the part numbering guide below for aircraft and helicopter windows and composite components.



1. Upper Cockpit zone
3. Upper Cabin zone
2. Lower Cockpit zone
4. Lower Cabin zone
Part number : C340-301-01
Key to part number:
C340 = Aircraft identification
3 = Zone
01 = Number from front in zone starting with 01
0 = Outer, 1 = Inner, 2 = Vent or part of, 3 = Bubble type
1 = Left hand, 2 = Right hand, 3 = Centre or unhanded
From Pilot's perspective

eg. B206L-201-02 = Bell Longranger chin window Right Hand
ZONE 1
ZONE 2
ZONE 3
ZONE 4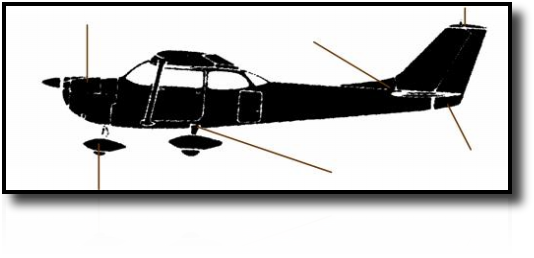 Elevator Tip
Wing Tip
Strut Cuffs
Engine Cowling
Wheel Spat
Landing Gear Cuff
Rudder Cap
Dorsal Fin
Tail Cone
Part number: (aircraft Identity)-(Component)-(Upper/Lower)-(Left/Right/Centre)

e.g. C182-SC-UP-LT - Cessna 182 Strut Cuff, Upper Left hand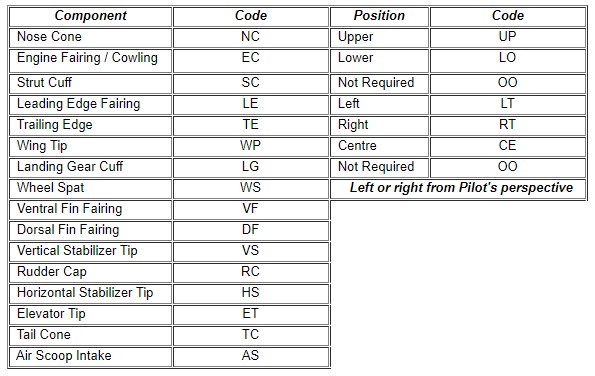 Cell: 082 893 5583
Mail to: aces@yebo.co.za
Fax 086 651 9235
P.O.Box 5588
Kokspark
2523

Aces Plastics 2020